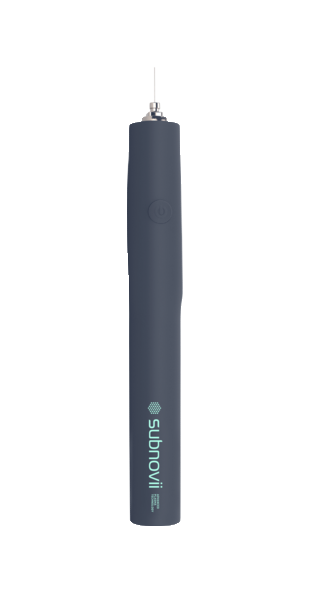 What is Subnovii?
The Subnovii treatment utilizes low-frequency energy to concentrate the fine layer of ionized gas (plasma) overlying your skin to a small spot on the skin and delivers energy to your tissues, producing a small sealed wound on the skin, and stimulates collagen, elastin, and hyaluronic acid production. The result is tighter, younger appearing skin.  The device never touches your skin!
What areas can be treated with Subnovii?
Our favorite areas to treat with the Subnovii are everyone's most problematic areas:  upper and lower eyelids, crow's feet, perioral/smoker's lines, forehead, jawline, décolleté, and neck.
How many Subnovii treatments will I need?
Most people only need one treatment. However, once we are over 60, we experience a reduction in collagen and elastin production. Therefore, you may need more than one treatment.
Am I a candidate for Subnovii?
Most people are candidates. Darker skin types and those with a history of melasma may be at a higher risk for pigmentation issues. We can review whether Subnovii treatment is the best option for you during your consultation.
How long does the Subnovii treatment take?
Treatment time depends on the area being treated. Some people treat only the eye area, while others choose to treat their entire face and neck. It is crucial to have a consult prior to your procedure to ensure you are a good candidate and to discuss treatment options.
How do I care for my skin after a Subnovii treatment?
Each client will receive a Subnovii home care kit with specific instructions on how to care for your freshly tightened skin. This kit includes a cream and a powder to keep the area clean and dry. It is important not to pick at your skin, as this may cause scarring and/or pigmentation issues.
How long will it take to see my results?
Although results are noticeable immediately, we like to refer to this as the Cinderella effect. It will take from a few weeks up to 6 months to see your maximum benefit.
We can pair this treatment with IPL, Erbium Laser treatments, and PRF (platelet-rich fibrin) for added benefits!